BEST CHRISTMAS GIFT BASKET IDEAS FOR HOLIDAY 2017,  2018
Jamaica Gift baskets can sometimes get a bad rap.  Traditionally, they were given by old-timey office workers to their clients.  We yawn thinking about it. In recent years, the standard Christmas gift basket has been reinvented.  Sure, you can choose some classic fruit options, but now you can toss in some bottles of wine, experience chocolate covered everything, and find some great options that even the kids will love.  Check out our favorite gift basket ideas below.
Good times turn great with our Chocolate Celebrations Gift Basket. Whether you're sending to a graduate far away or sharing with friends at home, the sumptuous selection will make everyone happy. Features two Gold Gift Boxes with our famed milk, dark, and white chocolates with classic Belgian fillings like silky ganaches, creamy pralines, rich caramels, fruits, and nuts. Also inside: our Signature Truffles; Individually Wrapped Dark Chocolate Caramels and Milk Chocolate Truffles, plus one small and one large Milk Chocolate Bar. Tied with a classic brown ribbon.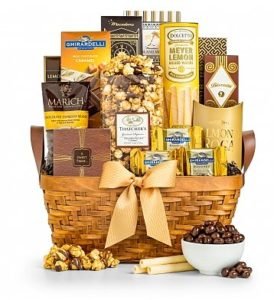 Set the gold standard in generosity with this classic woven gift basket filled with impressive gourmet fare, creating a perfect holiday gift for the gourmand in your life.
Included in this Gift
Chocolate Drizzled Caramel Popcorn, Lemon Dolcetto Wafers.
Ghirardelli Caramel Milk Chocolates, Oatmeal Tea Cookies.
Almond Roca, Marich Chocolate Espresso Beans and more.
What else is in this gift basket?
Presentation
Each gourmet item is carefully assembled, and the gift is accentuated with a hand-tied satin ribbon with optional personalization. A free card with your personal message is included, as well as complimentary scissors so your recipient can easily open their gift.